MACHINE NAME: ROBOTIC LOADER
MODEL: ROBO-FLEX 100
Description: Vision guided Delta robotic Cell.
Functions: Systems Packs food and medical products by picking products from the incoming conveyor at random. It gently places product into the cartons. The cartons are formed by the carton erector and delivered to a cell by the conveyor. The same conveyor takes filled cartons out for final closure and pack off. The system has optional Robotic accumulator that is designed to provide a buffer for incoming product in case of the carton erector stoppage. This robot can feed the product in or out of the buffer by increasing the rate of the carton erector. It is also designed to pick up the product from the moving conveyor or the buffer and place it in the carton.
Rate: 60-120 parts per minute
Parts size: Length: 1-10", Width: 1-10", Height: 1/8-3"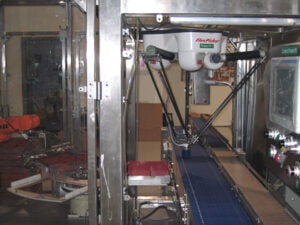 This high rate flexible vision guided robotic system has a stainless framework. The system is designed for food, medical and pharmaceutical