MACHINE NAME: ROBOTIC PALLETIZER
MODEL: FLEX-PATTERN 50
Description: 4-axis 220 Lbs capacity robot with Flex-Pattern end effector. Includes two products delivery and staging systems for two incoming conveyors, two pallet dispensing, and two power roller conveyors with 3 pallet locations for each conveyor.
Functions: Pick and Place multiple cases from single line conveyor. Place cases into desired patterns. Two products can be palletized at the same time. Programmable robotic slip-sheet placement and power conveyor finished pallet discharge are included. Upon completion of palletizing each pallet is discharged by its own power roller conveyor. System has SLC 550 Allen Bradley PLC and 10" Color Panel View interface. Programmable patterns, including equal spacing for cases for special patterns.
Rate: 30-50 cases per minute, 3-6 cases per cycle.
Average cycle: 6 seconds
Cell size: 6' wide x 10'long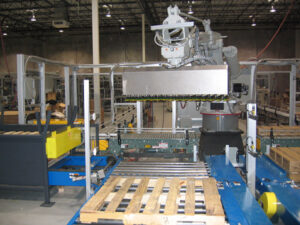 Robotic Palletizer with flexible pattern gripper.