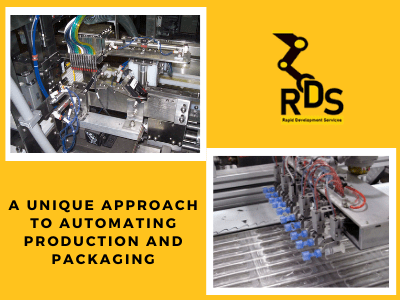 Check our article published in OEM Magazine
A Unique Approach to Automating Production and Packaging
Rapid Development Services and Multivac team up to develop an automated system to package insulin reservoir syringes into a form/fill/seal machine.
Off-the-shelf equipment will not accommodate every application, particularly those that are complex involving equipment for manufacture, assembly, packaging, labeling, and palletizing that must be flawlessly coordinated.
For manufacturers, the continual need to increase production speed and efficiency while reducing labor has spurred a shift toward implementing more automated systems.
RDS was called on to develop an automatic system to package insulin reservoir syringes into a Multivac form/fill/seal (f/f/s) machine, followed by carton and case packing for ready-to-ship product delivery.
With the robotic system, each of two cells packaged product at a rate of over 120 reservoirs per minute, for a total of 240 units per minute. The packaging system also had a carton erector, and the sealed packages were robotically inserted into cartons.
"In RDS's partnership with Multivac, we have utilized proprietary technologies for feeding, staging, and loading an array of parts per each machine cycle with up to 60 parts per pick with a single robot," says Gurevich. "The solution allows one robotic cell with a single six axis robot to place parts into Multivac at rates of up to 800 per minute."