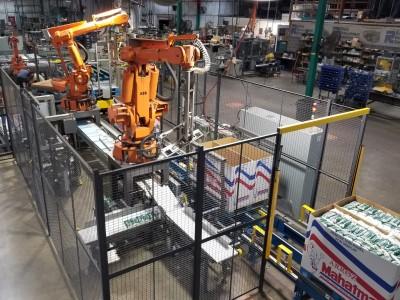 Taking the Next Step in Packaging Automation
Working with an expert packaging device fabricator and integrator that is flexible enough to customize can help meet requirements while expediting completion
For projects of any size, however, it can be crucial to partner with an expert supplier to overcome a range of obstacles such as meeting specifications and regulatory requirements, system integration, and necessary customization, as well as completing the work on time and within budget.
For packaging device manufacturers, the continual need to increase production speed and efficiency while reducing labor has spurred a shift toward implementing automated systems.  However, off-the-shelf equipment will not accommodate every application, particularly those that are complex with robots and conveyors, as well as a host of equipment for manufacture and assembly in addition to packaging, labeling, and palletizing. that must be flawlessly coordinated.  For this reason, even some large automation companies will not take on applications considered too difficult.
In such cases, packaging device manufacturers looking to increase the speed and efficiency of their production and packaging lines need an automation partner that can quickly and cost-effectively deliver tailored, even custom solutions.  This includes the ability to design, build, and integrate high-speed, high-volume automated equipment and systems for some of the largest companies in the world.
The reservoir-syringe was presented to the system in a bulk form.  The robotic system utilizes vision inspection to check for the presence of subcomponents before placing reservoir-syringes into the Multivac machine's formed web cavities.  The vision inspection identified the presence of the plunger, guard and overall geometry pattern of syringes by inspecting a set of 10 units per cycle.  The system used two, six-axis robots, two Vibro-feed bowls, and the Multivac web machine to feed, pick, place, and seal reservoir syringes.
With the robotic system, each of two cells packaged product at a rate of over 120 reservoirs per minute, for a total of 240 units per minute.  The packaging system also had a carton erector, and the sealed packages were robotically inserted into cartons.
So, whether packaging device manufacturers need help automating their production, or the equipment used in other settings, partnering with an expert in automation can be the surest route to ensuring compliance, reliability, and efficiency.